Originally published on Renew Economy.
A small terrace house in the inner Sydney suburb of Glebe is hosting what is believed to be the world's first building integrated solar system that generates electricity as well as heat.
The array combines thin-film solar PV and solar thermal technologies into a steel sheet roofing product produced by Australian steel manufacturer Bluescope, with assistance from the Australian Renewable Energy Agency.
The top layer of the roofing product (pictured) generates electricity in the same way as solar PV modules – although it uses thin film technology for less weight and thickness – while heat is trapped and distributed between the two layers for use in water and space heating.
"Today we are witnessing an exciting new technology solution moving from the lab to be prototyped on everyday Australian rooftops for the first time,"ARENA CEO Ivor Frischknecht said in a statement.
"The old corrugated steel roof on this house in Glebe has been completely replaced with the first integrated photovoltaic (PV) thermal system in Australia, generating reliable renewable energy for the residents. A tile roof in the Illawarra region has also been replaced with the integrated PV system, demonstrating its versatility.
"In addition to PV panels, an innovative thermal duct system warms and cools air to supplement air conditioning in the homes. These first installations are an important step as the technology moves towards commercialisation and cost competitiveness with conventional rooftop PV."
Frischknecht said the system had been designed to provide a low cost system that would reduce installation and energy costs, as well as peak demand pressures on the grid.
BlueScope is trying to reduce system costs through improved PV modules and roofing designs, reduced packaging and transport, improved building energy efficiency and easy, low-cost installation.
When the project was announced in 2012, Bluescope said the building integrated photovoltaic market was expected to increase 10-fold across the globe in coming years and become a key part of new construction, and even building retrofits.
Bluescope's head of coating product development, Dr Troy Coyle, told RenewEconomy in 2012 that that innovation in designs, and incorporating energy production was a key part of the future market. "That is where the roofing industry is heading," she said.
"The market motivator is energy reduction, and the motivator for integration into rooftop design is a reduction of material costs and in building heating costs," Coyle said. "That way we can have it all done in one."
It could also be used in retrofits. A new roof deck above the existing roof surface can incorporate solar cells, and air then flows in the duct created under the new roof surface. This air flow will not only help cool the solar cells during warm weather, improving generation efficiency, but it will also help to heat and cool the building. Warm air generated in winter is used for heating, and as heat is radiated from the cells on summer nights, cool air is then supplied to the building, increasing overall energy efficiency.
Bluescope sees this technology being applicable in the residential, commercial and industrial markets.
Building Integrated Photovoltaic Thermal (BIPVT) system aims at changing the rooftops of all the structures across the globe.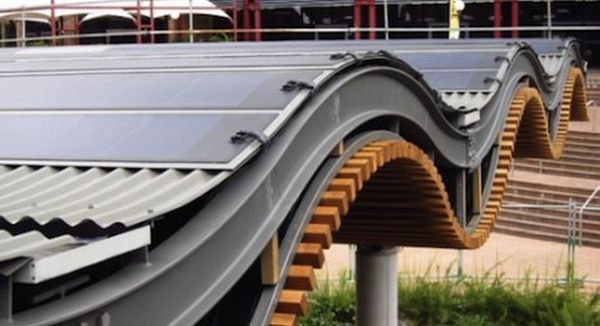 Photo courtesy of http://www.ecofriend.com/
BIPVT is a retrofitting system that is being developed currently to ensure that one can put up efficient and ergonomic photovoltaic installations on existing rooftops. The idea is to add to the already present roof instead of tearing it down to build a whole new solar rooftop. And the research team is going way beyond just harnessing the power of the sun for this new system. They a so intend to create a natural thermal insulation for the home by using the BIPVT.
The refurbishment of the roof that is already in place is done by adding a layer of BIPVT on top along with the PV installations. Due to the gap created between the old and the new roof structures, air that is caught in between them acts as perfect natural installation and keeps your artificial heating and cooling needs to an absolute minimum. In this simple, but highly effective. You not only get a great renewable and clean energy source, but also improved insulation. If the BIPVT system is realized, then many existing homes and offices can be turned into zero energy structures
Building Integrated Photovoltaic Thermal (BIPVT) and  Building Integrated Photovoltaic (BIPV ) presents the same typical hazards that a standard framed photovoltaic would present to firefighters other than they are integrated into the building system so it will blend in and not appear have solar power from the ground.Therefore it is essential that the officer recognize PV inverters and shutoffs on their 360.
From more information on solar and the fire service check out the following links:
http://www.greenmaltese.com/2011/04/14/new-solar-shingles/
http://www.greenmaltese.com/2013/09/22/solar-power-firefighting-training-material/
UL Class:
Stay safe and always be on the look out!
Captain John Shafer